There are a number of free download managers you can use to make downloading multiple files from archive.org much easier, without having to click on link after link to download an entire show. I'm going to focus on two plugins for the Firefox browser - Flashgot and DownThemAll! Flashgot is easier and more intuitive, although it lacks some of DownThemAll!'s features, such as being able to set the download speed and the number of concurrent downloads, so I'll get that one out of the way first. You will need the Firefox browser installed on your computer for both of these plugins to work.
Flashgot
DownThemAll!
FLASHGOT
Flashgot is an easy to use, intuitive download manager. You can find and install it directly into Firefox by going to https://addons.mozilla.org/en-US/firefox/addon/flashgot/.
First Time Using Flashgot - Choosing File Types
Archive.org hosts live shows in three different formats - lossless (.shn, .flac or 24-bit .flac), .mp3 and Ogg Vorbis. While you might want to download an entire show, you probably won't want to download it in every available format. You can set Flashgot to automatically download only the file types you want. Let's say in this case you want to download FLAC files (which you will, naturally ;-)).
Go to the download page of whatever show you want to grab off of archive.org and right click on any blank part of the page. In the context menu that pops up, choose Flashgot Options > More Options...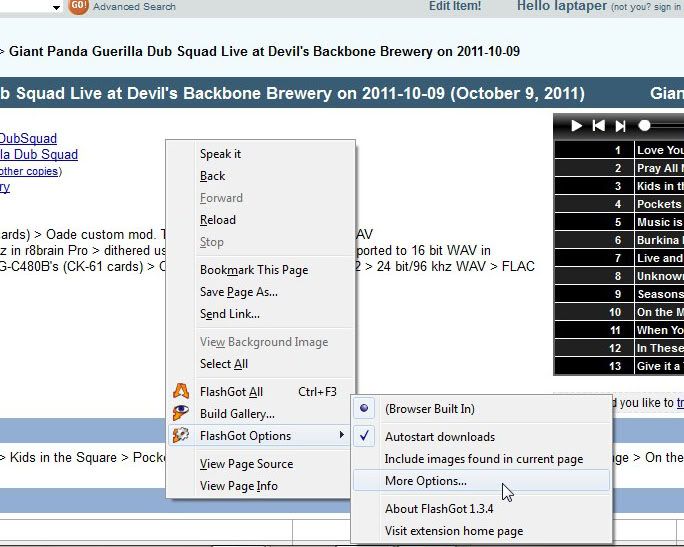 Click the Downloads tab in the FlashGot Options dialog box, make sure the "File Extensions" radio button is selected, then type the extensions you want to download in the upper entry field, clicking the Add button for each one. Just type in the extension name - if you begin with a period the Add button won't work. In this example I'm telling Flashgot to download FLAC, TXT, MD5 and FFP files (the latter two are used to check the FLACs' integrity once they're downloaded, but that's optional). Now when I right click on a download page and select "FlashGot All", FlashGot will download only those file types and no other.
Batch (Multiple File) Download
To download an entire show, right click anywhere on the download page and left click "FlashGot All":
At the next prompt choose a folder to download the files to or create a new one.
Firefox then queues up the files and downloads them in one batch. Only the file types that I specified are downloaded; any .mp3, .ogg, .jpeg or other files that are linked to on the page are automatically blocked.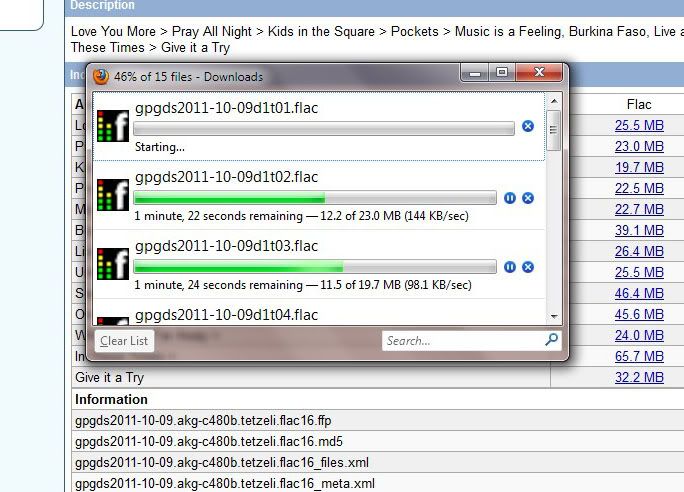 That's all there is to it. Now, as I mentioned before FlashGot does have limitations. You can't control how many files are downloaded at the same time, nor can you regulate the speed. DownThemAll! has these and many other useful features that give you greater control than what FlashGot offers. Most of those are pretty easy to figure out, but the one that's not intuitive is specifying what file types you want to download. Therefore the DownThemAll! section of this tutorial will focus exclusively on that issue.
DownThemAll!
This is in response to a question I got from someone on Lossless Legs about how to set up Firefox's DownThemAll plugin to automatically download lossless audio files and their metadata from archive.org, without downloading any other types of file. Since he wasn't the first it seemed a good idea to create this topic.
First, you need two things - you need to have Mozilla's Firefox browser, then you need to go to https://addons.mozilla.org/en-US/firefox/addon/201 and install the DownThemAll! plugin. From there, follow these steps to configure the plugin:
Go to a show you want to download from archive.org, right click on an empty part of the page and select "DownThemAll!" in the context menu.
In the bottom right corner of the window that pops up, click "Preferences".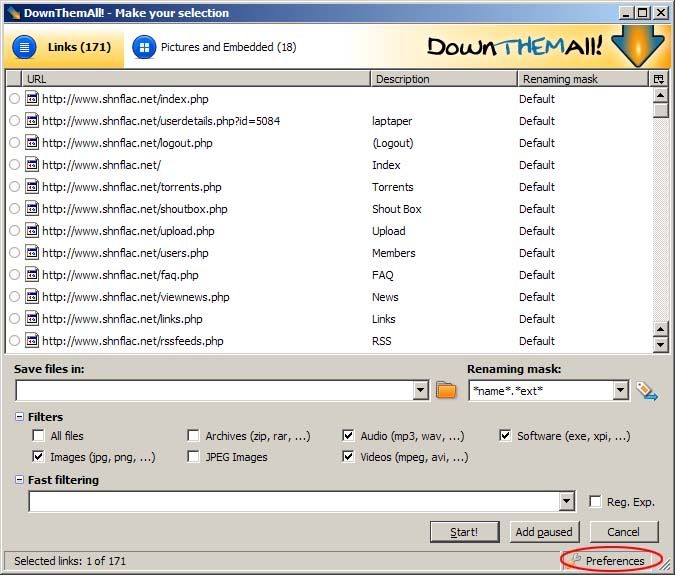 Click the "Filters" button at the top of the new window.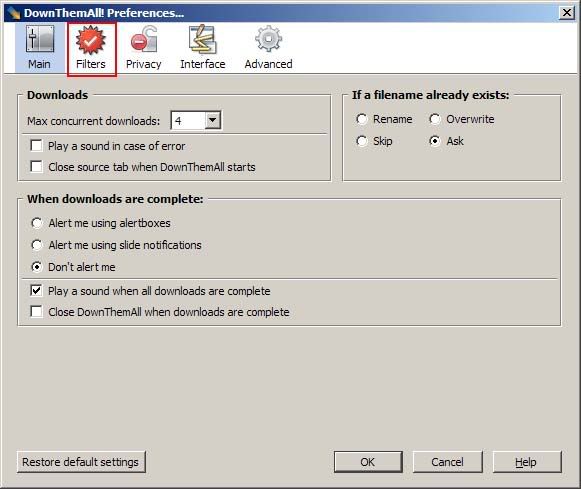 If you've already tried unsuccessfully to change your filters, click the "Restore default settings" button to start with a clean slate.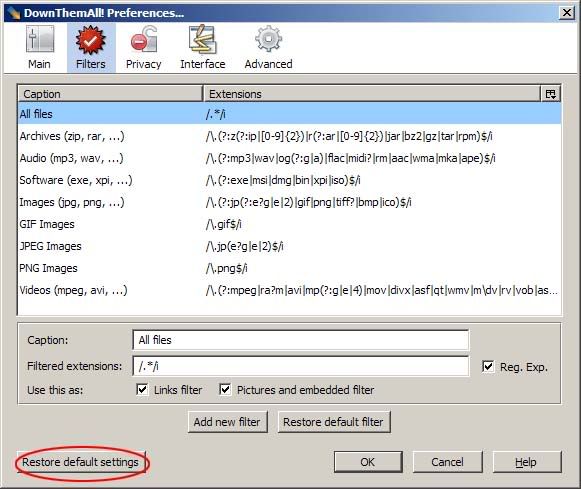 Click "Add New Filter". You'll see a new filter labeled "New Filter" highlighted in blue in the upper window.
Make sure you keep "New Filter" highlighted for the following. In the "Caption" window type "Lossless", in the "Filtered Extensions" window type or copy and paste the following (minus the quotes): "/\.(?:shn|flac|md5|ffp|st5|cfp|txt)$/i" exactly.
Click OK.
Check the new "Lossless" box and make sure all the other boxes are unchecked. You'll notice all the flac or shn files are queued for download as well as the metadata, but nothing else. Select a download folder for your files and then click "Start!"
Youse a-downloadin'! :-) From then on, whenever you want to download a show just right click on an empty part of the page, select "DownThemAll!" from the menu, choose or create a download folder and then click "Start!" That's it!
These steps WORK! If they don't work for you, you haven't followed the instructions to the letter. Read through them and try again. If you still have problems, let me know and I'll try to help.